ahhhhhhh i'm married!!!!!!
Well, that makes me feel properly old but who cares... OMG I'm married!! Hehe!! We've actually been married exactly one month today and gosh that month has flown in! Much like the months leading up to the wedding in fact!
Thinks got exceptionally crazy and busy when we bought a new house and also brought home our baby bunny, but you may also know that I'm a professional procrastinator. Meaning that so many of the jobs I had to do for the wedding were left until as late as I could leave them, meaning things were HECTIC for about 2/3 months before hand. I was basically organising or diy'ing everything I possibly could do myself, including invites, decor, all the little details of the day. No package weddings round here, no siree!! So there was SO much to do in the final months/ weeks / days.
I haven't actually got very many photos of the actual day to share right now, only a few from my phone or from other peoples photos but tbh it's too much to put all in one post anyway, so i'll share it over a few posts and then post some of our best pictures when we get digital copies from our photographer.
I'll start off with sharing some of the wedding prep - Our house basically turned into a wedding factory!
Invites in the process of being made...this was the first major job that started off the DIY madness...
I spent many hours tying bows (whilst drinking wine obviously)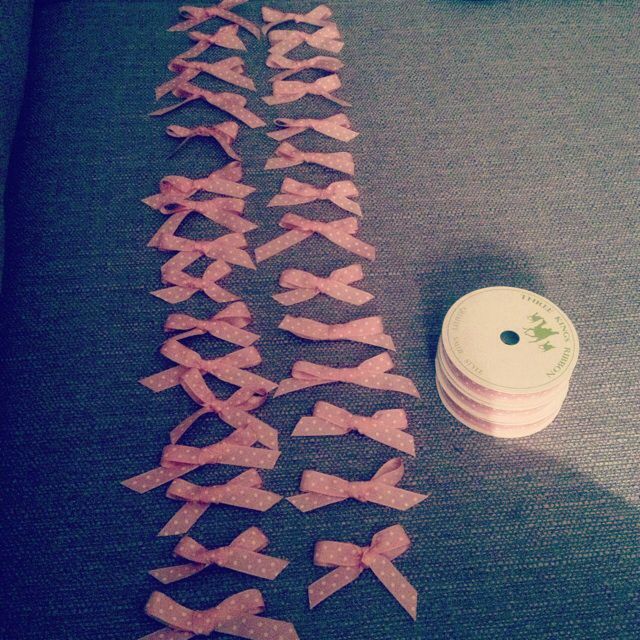 The finished article ( with personal details blocked out)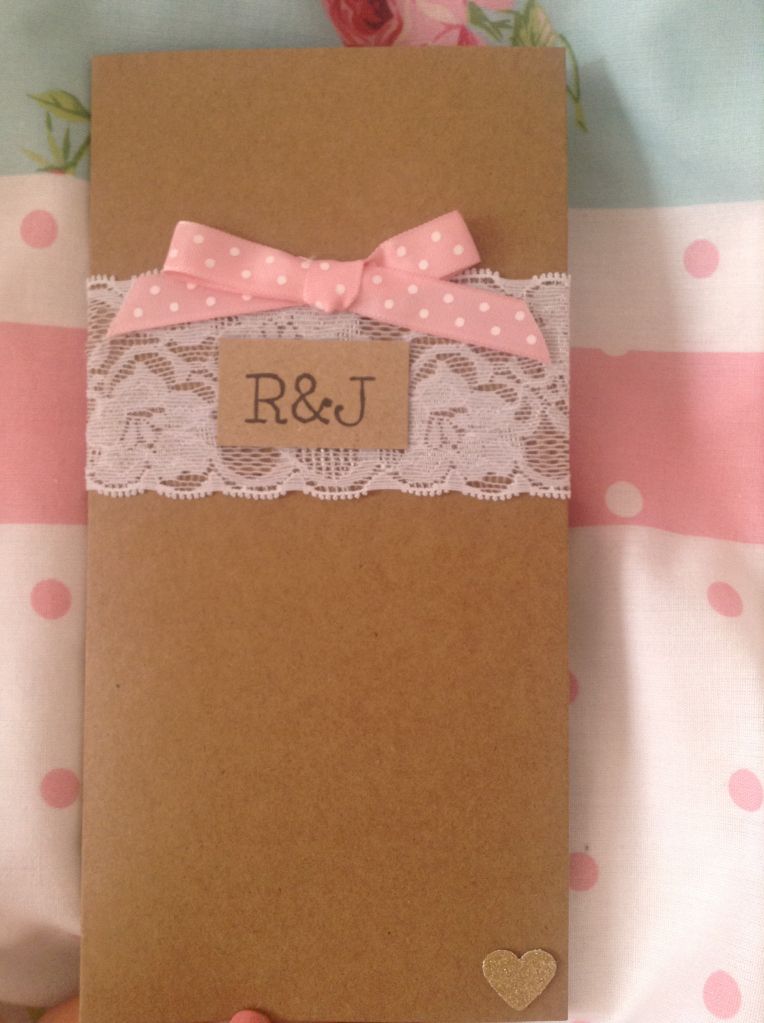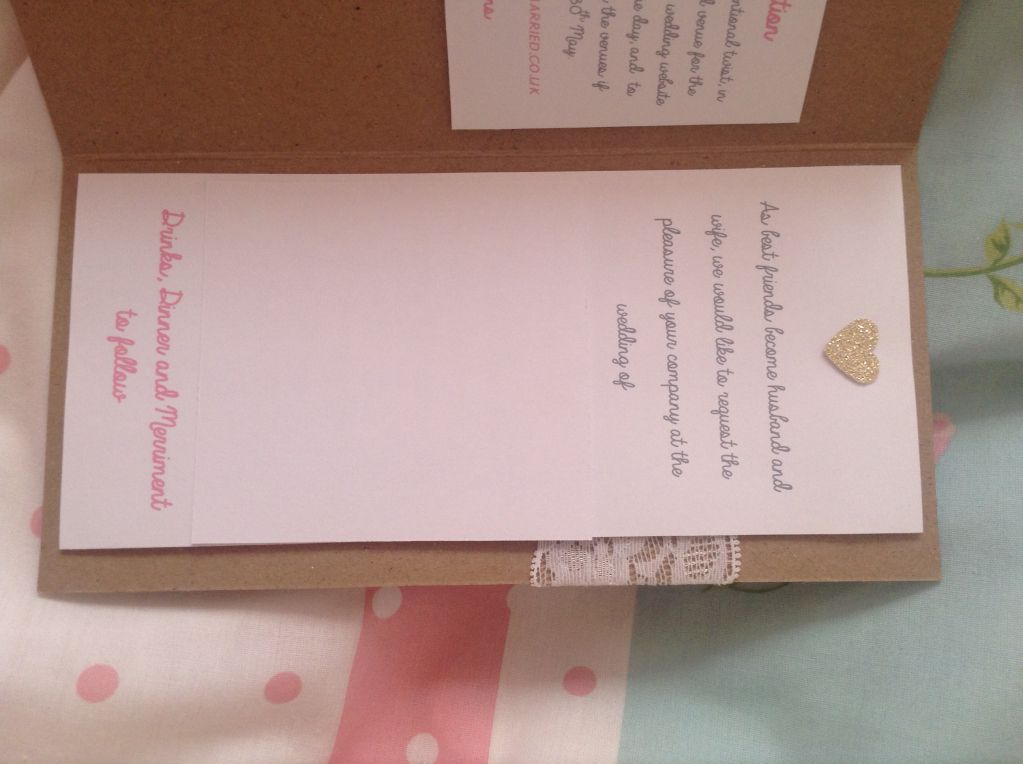 I also made all our little place cards for the tables -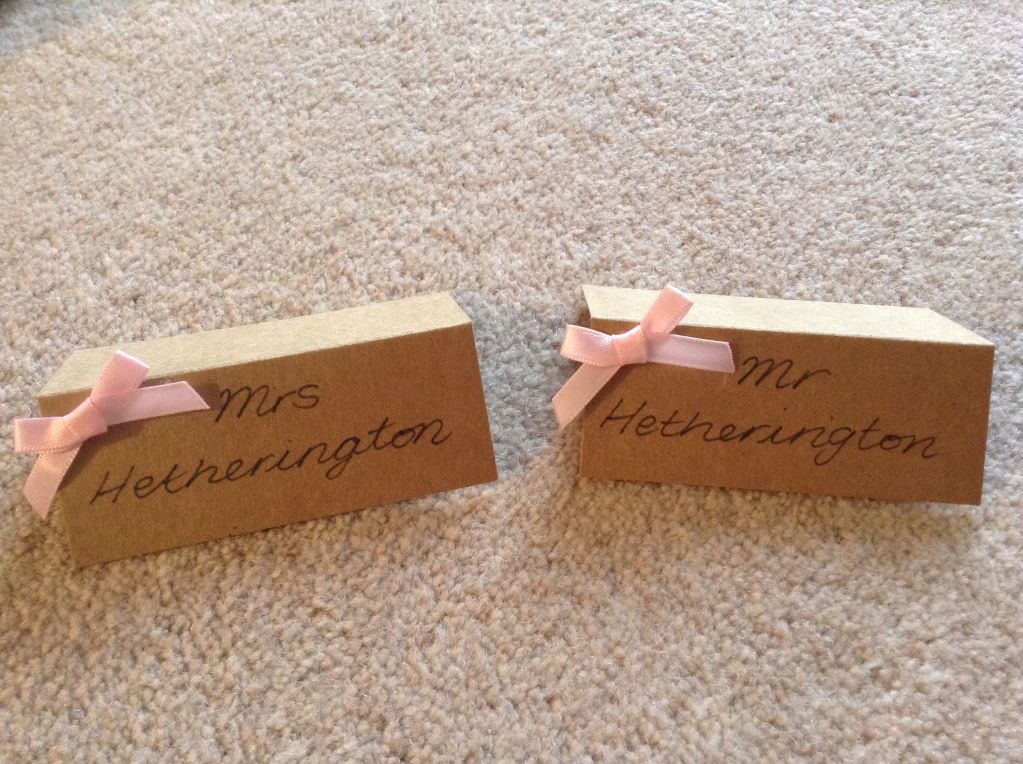 After the invites, the next biggest job was doing the flowers. I refused to spend up to £1000 on flowers for just one day - they're only going to die a few days later. I decided early on that I would be doing my table flowers and bridesmaid bouquets. I went to Country Baskets to get all my flowers, lace, ribbons etc.
This was my first batch, I later went back for more. I probably spent about £200 all in on flowers, not including my (real) bouquet and the buttonholes for the men. Bargain compared to real and everyone commented how lovely they looked.
For months in advance I had family and friends collecting jars for me and I ended up with this...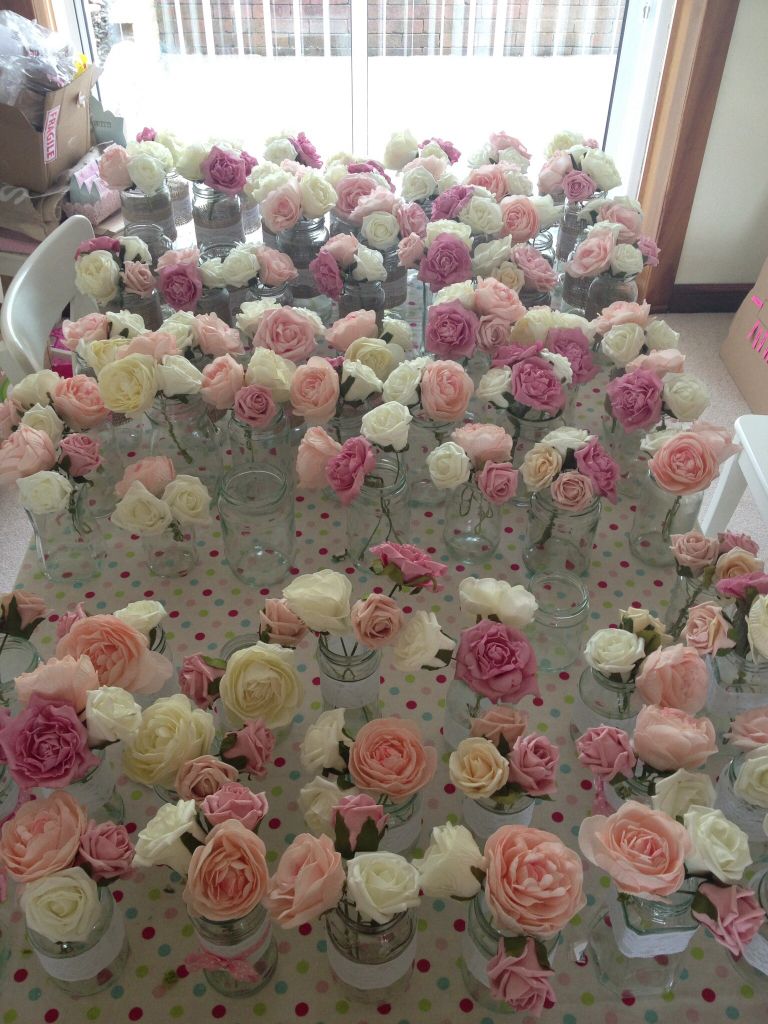 It was at this point that my house began to resemble a wedding factory - there was no getting away from all the stuff lying around!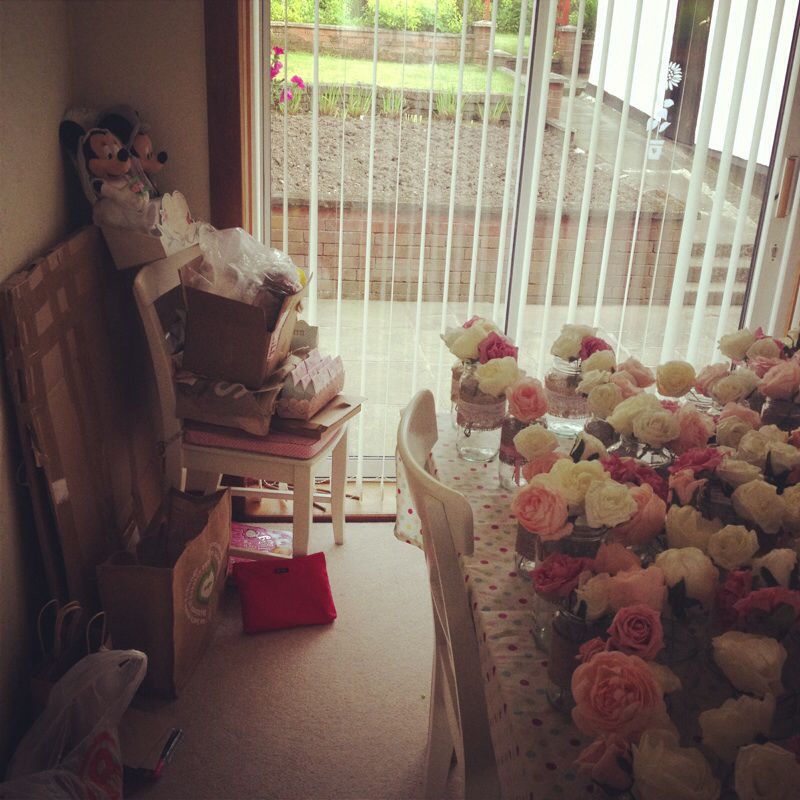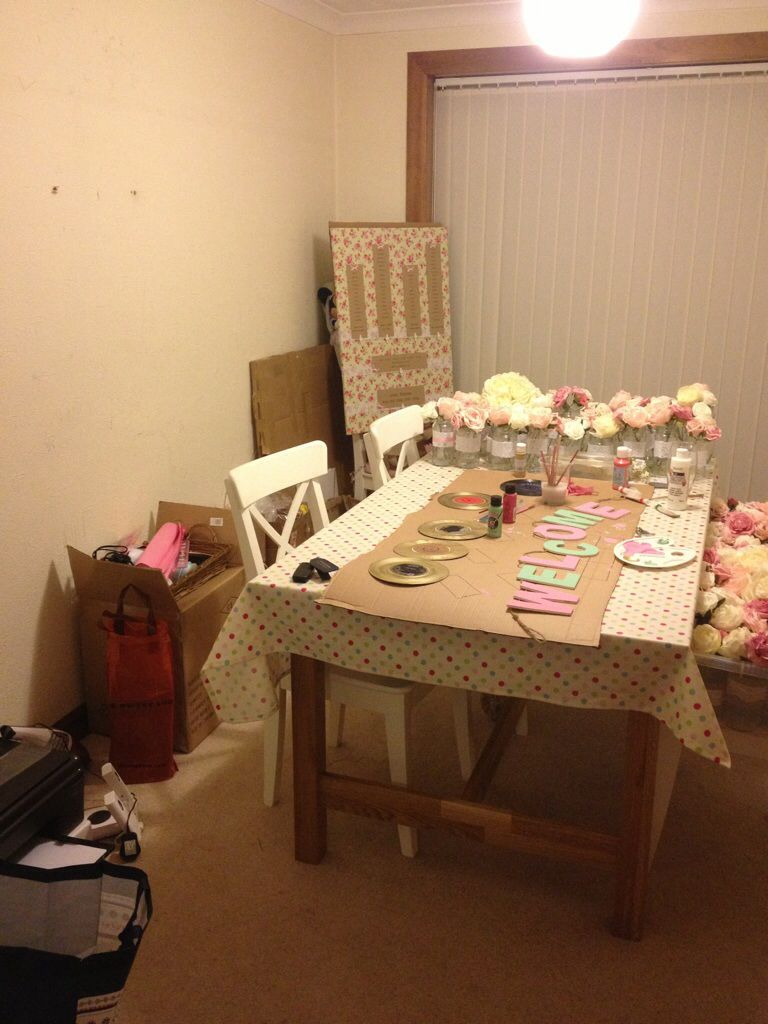 This was the way my flowers were to be arranged on the tables - the jars were carefully arranged into 3 groups of sizes before decorating. Each size group had a different style of decor so each cluster could be sure to have a range of sizes and styles. It looked random and unplanned on the day but believe me there was lots of careful planning hehe!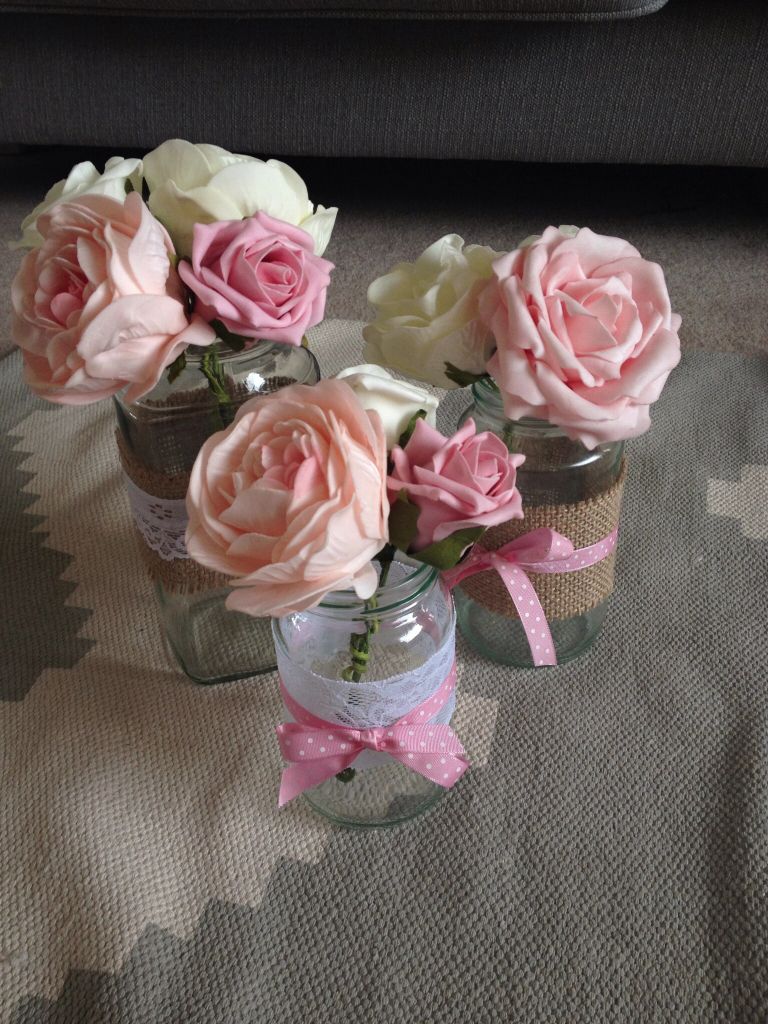 These were my bridesmaid bouquets - so easy to make and worked out around £7 each. The girls could then obviously keep them as well seeing as they are foam flowers!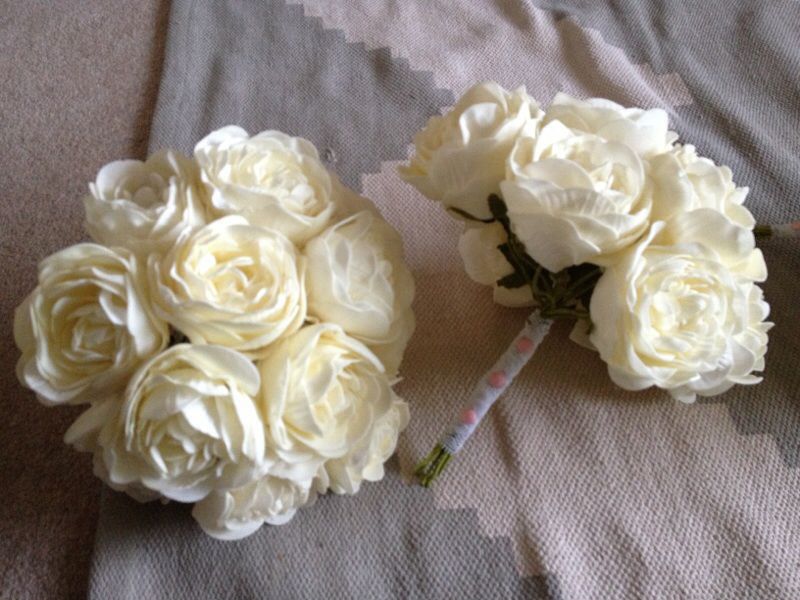 I realised just now as I'm looking at that "wedding factory" above that there's loads of wee bits and bobs that I haven't got photos of but luckily my photographer captured most of the finer details on the day so hopefully I'll be able to share more eventually :)
So anyway, this is my DIY table plan -
This was my system for arranging the tables. We started out with small tables but long tables were sooo much easier and I actually liked it much better that way in the end. Felt more sociable on the day :)
Ignore all the other rubbish in the photo here - these were my table names. They were spray painted gold records with name cards attached. I loved these and Robert chose all his favourite love related Beatles songs so he had some input too :)
These were my signs I made for our cake table, Instant camera table and guest book table. I don't think anyone used our hash tag :(
This was our welcome board with menu and timetable of events. I loved this although I was a bit annoyed at how fluorescent the colours were because I had tried to get pastel chalk pens and couldn't seem to find any anywhere. Ignore my toes please ;)
I planned and organised a cake table for our evening venue (we had our day over split venue for very annoying reasons I won't go into right now! It actually worked out great though so no major problems). I ordered loads of bits and bobs online and it all looked great on the night :)
My mum brought his mallow cake home from Spain!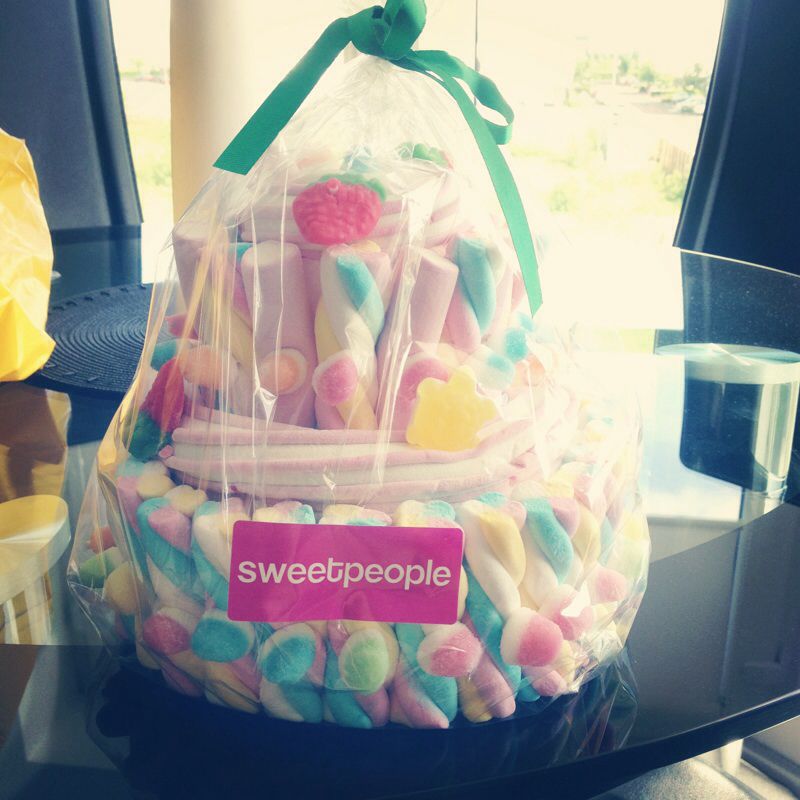 All my jars and sweets that I'd bought. I was SO adamant I was having one of those swirly lollies on the night but when it came to it I completely forgot and I didn't actually eat anything from the buffet! These later had luggage tags and ribbons attached to label them all.
I made white chocolate rocky road -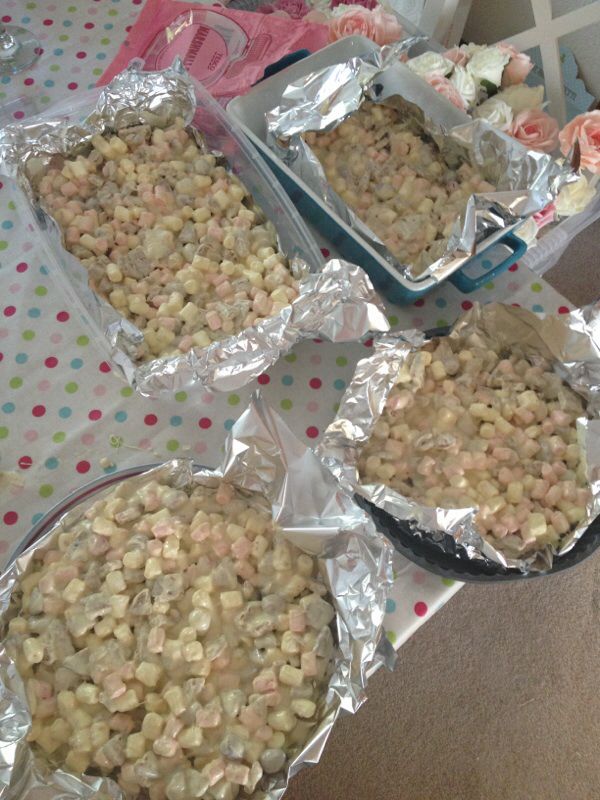 And posh top hats. Please ignore the old but of lettuce on the back of my fridge haha!
My aunt made these lovely biscuits for us -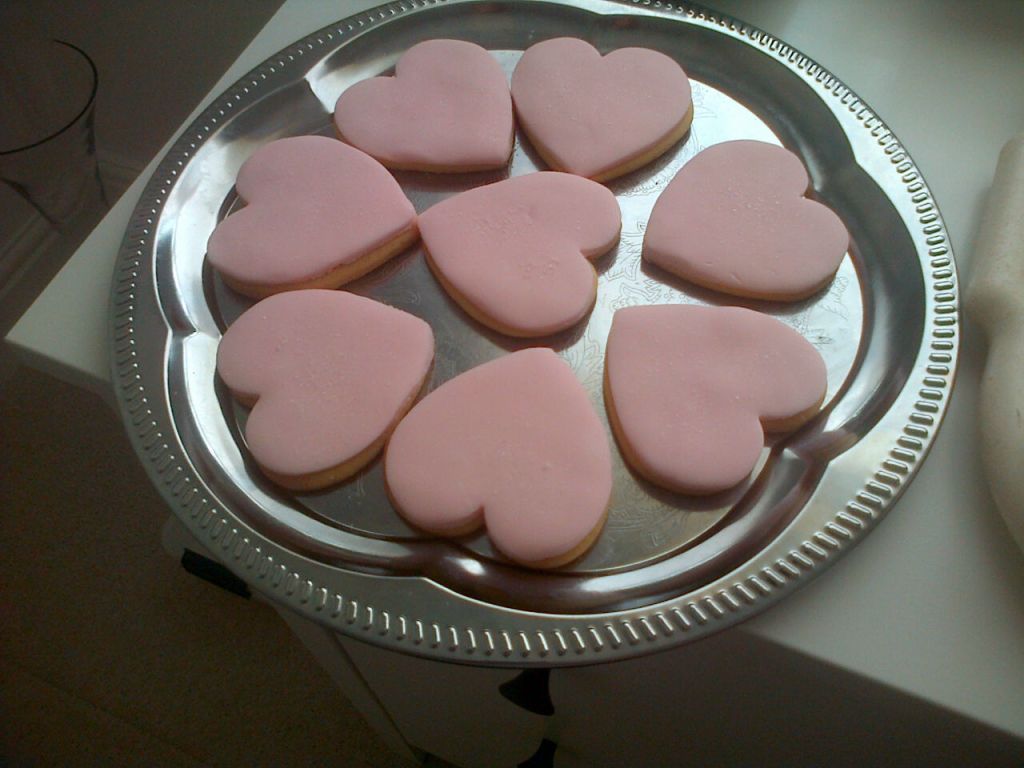 There was also cupcakes but I don't have any in advance pics from those, just on the day ones which i'll post soon :)
I got really cute stripey bags for people to help themselves -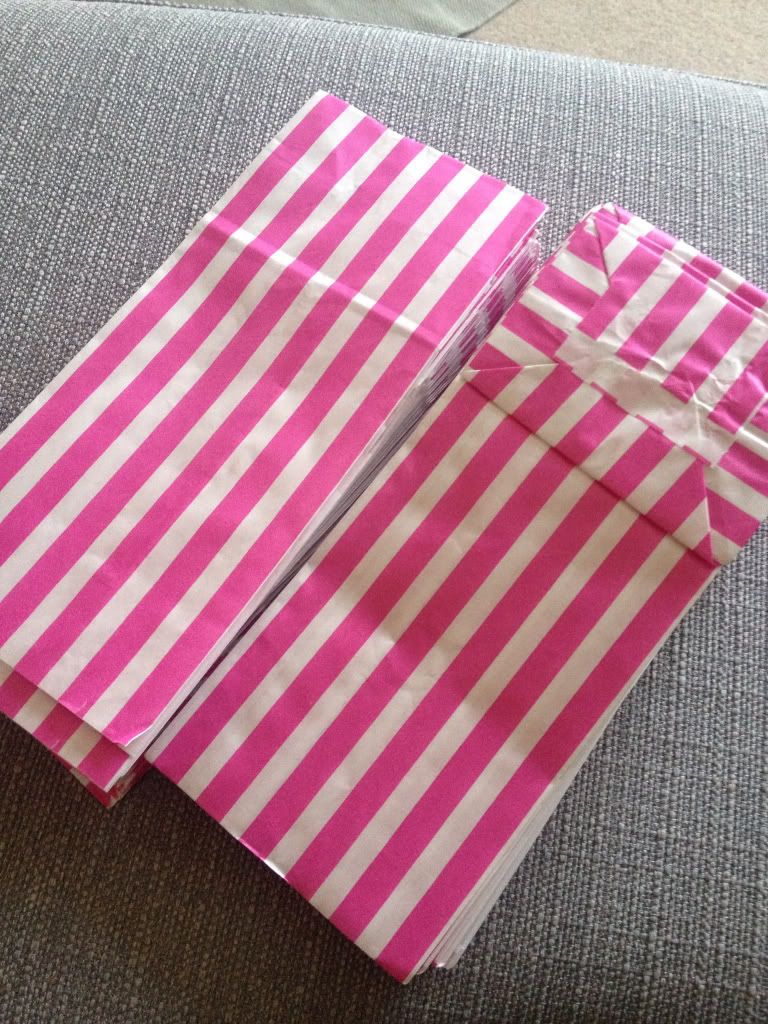 I made my bridesmaids these lovely gift bags too -
The contents of these were -
Bracelets (the pink one) -
Little mirrors -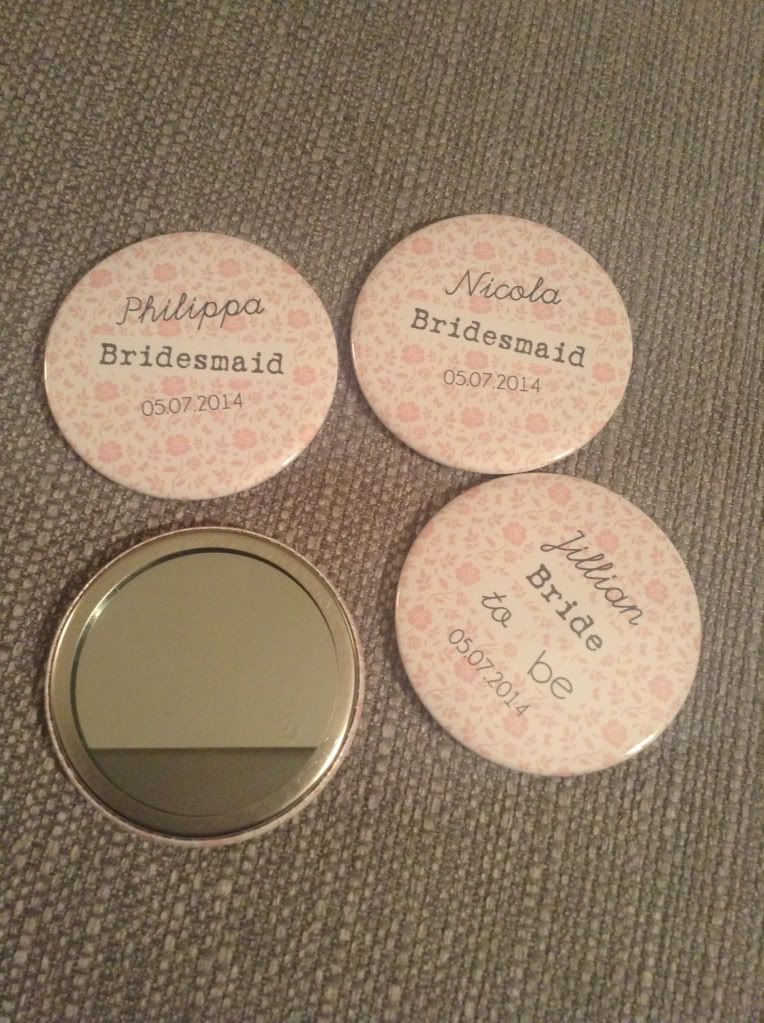 Personalised lipbalms (obviously this is a sample coz we're not melanie and pablo hehe)
Nail polish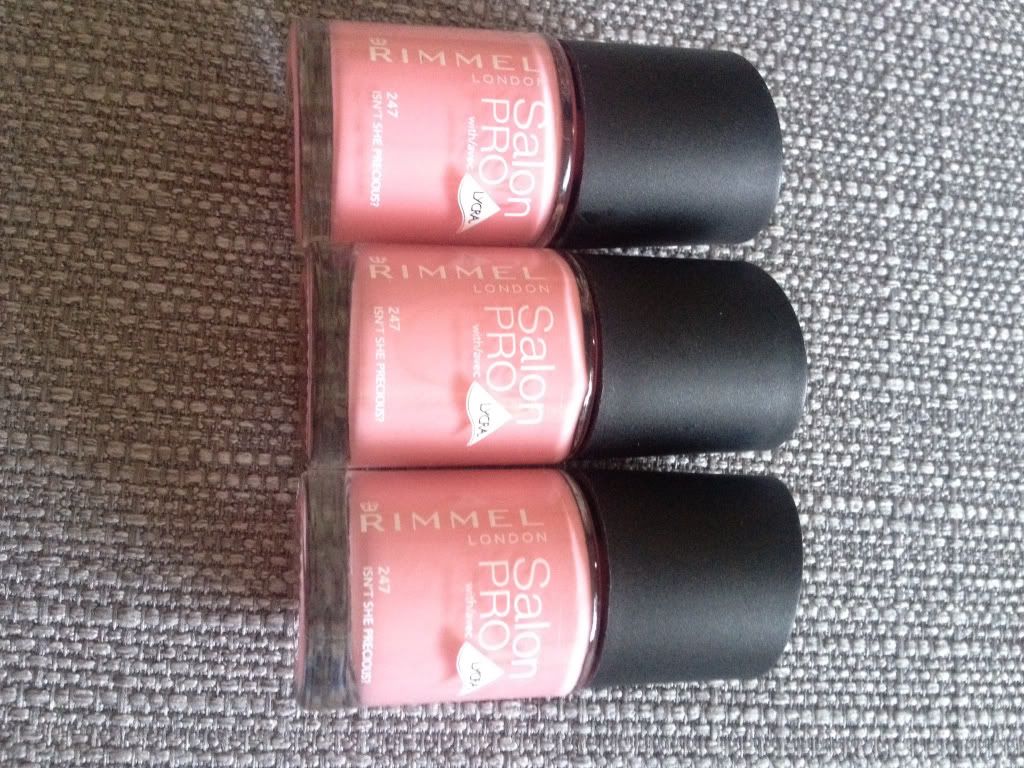 Bridesmaid chocolates - these had a personal message on the back from Robert and I too.
And a little bottle of bubbly which I have no picture of, but i'm sure you know what a little bottle of bubbly looks like!
I had planned a full on photo booth but due to our change in evening venue I didn't think we would have the space. I ended up deciding about 2 weeks in advance of the wedding that I would just set up a wee table of photo props with my instax camera and loads of spare films. It ended up being one of the highlights of the evening and I'm so glad I did it! Here was me and buttons getting in the spirit in advance hehe
I think that's about all I've got in the way of wedding prep, and some of you may have seen all this before if you've been following my wedding planning thread on the Dibb.
I have another couple of posts to do before the day itself (hen do up next!!) but to reward you for making it this far here's a little peek at my dress. Coz let's face it, unless you're planning a wedding yourself the only bit that people are desperate to see is the dress!
So here you go :) my amazing dress, shoes and multiple underskirts!
This was my favourite picture taken at my final fitting, despite my mum's arm being in the way.
Selfie on the car on the way - I was sooo nervous!