So... since I'm trying to get back into blogging as a regular habit I decided that alongside my wedding posts that i'll be putting up, i'm going to try and complete this August blogging challenge that my friend Nina posted about. Like Nina i'm obviously starting late so i'm going to try post every day from tomorrow, or maybe i'll even post a few times until i'm caught up. We'll see how it goes I guess!
The challenge comes with a great list of prompts so every day I have something specific to blog about - which will hopefully help me get into the habit without the danger of running out of stuff to talk about :)
So, the list of prompts is as follows -
Here is the list of blog posts...
1. Introduction and a recent photo!




2. 20 facts about you!




3. Your favourite quote.




4. Where would you like to be in 10 years?




5. A special memory.




6. Tell about your best friend.




7. 10 songs on your playlist right now.




8. What's in your handbag?




9. List 15 things that make you happy (not including the obv. family etc).




10. What are 3 items you've checked off your bucket list already.




11. You're 5 favourite movies.




12. A guilty pleasure.




13. Share pictures of where you live and list a couple of cool things about it.




14. Why do you blog?




15. What destinations are top of your dream travel list?




16. If you won the lottery.




17. Timeline of your day. (In photos, words or both).




18. What do you collect?




19. What are your ten favourite foods?




20. What is the best thing that has happened this year?




21. What are your 10 favourite blogs?




22. Share an old photo of yourself.




23. What are you looking forward to?




24. Sum yourself up in ten words!




25. Capture one moment in your day and share it.




26. What are 5 of your favourite posts from your archives.




27. Have you had to overcome something difficult?




28. Who or what is your biggest source of inspiration?




29. 5 things you can't live without.




30. Your earliest memory.




31. What was the best thing about this month?
So to kick this thing off , a little intro to me and my blog...
As you've probably guessed from my blog title my name is Jilly (Jillian). I'm a newlywed teacher who lives in Scotland, wife to Robert and mummy to our little bunny Buttons, who is 8 months old. I've had this blog for a few years now but as you'll see in my archives my posting habits are a bit sporadic and I tend to go through little spurts of posting lots then nothing for months. I've always wanted to have a blog that documents my life for me to look back on, so i'm really hoping that maybe this time i'll actually stick to it.
At the moment I teach nursery aged children, which is great fun because I get to do lots of crafty and fun activities! The kids also seem to like me coz I like a lot of the things they like, eg Minnie Mouse and Disney Princesses. As well as being a big kid I love all things crafty, and have a go at a lot of different things, eg scrapbooking, knitting, crochet and embroidery, as well as painting and a wee bit of sewing. I bought a sewing machine and hope to learn to make some clothes of my own in the (near?) future.
Aside from my crafty endeavors I love spending time with my family and friends, eating cakes, drinking cocktails and pretending to be an awesome homemaker. I'm getting there with that one! I also love long lies, nail polish, dresses, taking photos, reading blogs and going out for dinner. I hope that my blog will cover a little bit of all of the above :)
As prescribed by the blog challenge, i'm sharing a recent photo of me which is me on my honeymoon a couple of weeks ago.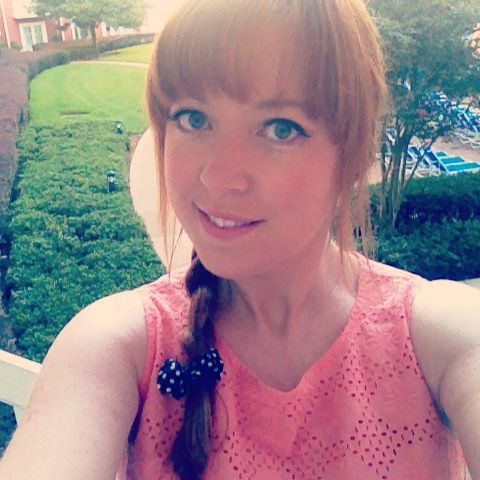 thanks for reading peeps, leave a comment if you're joining in the blog challenge too so I can pop by and read your posts!
Much love xox